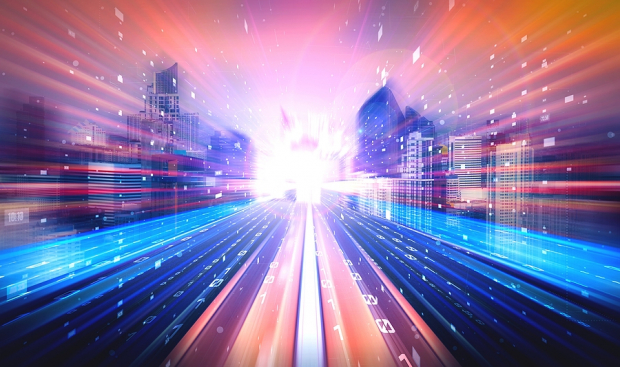 3 Top-Ranked Tech Stocks Crushing the Market to Buy in Q4 – September 20, 2023
Wall Street is focused on the Fed and Jay Powell's speech on Wednesday, with the next several days likely to be spent parsing his every word and digging into the central bank's updated dot plot.
A growing worry for the market seems to be rising oil prices, which will work directly against the Fed's inflation fight. However, the Fed focuses on core inflation partly because its policy rate isn't able to impact global oil markets very much. And Wall Street remains rather upbeat that the Fed is nearly done hiking as it appears poised to enter wait-and-see mode.
Despite some rotation back into the energy sector over the last few months, the backdrop in both the near-term and over the long haul remains rather firmly intact for tech. Technology's sway over every aspect of people's lives and the economy is only growing.
Today we dig into three top-ranked Zacks stocks from the tech sector that have crushed the market in 2023—two are even attempting to keep pace with Nvidia's 200% rally.
All three stocks also offer nice growth outlooks and appear to be sitting at solid technical and valuation levels.
AppLovin ((APP – Free Report) )
AppLovin designs tools to help app developers improve marketing, revenue generation, and much more. The firm plays a key role in the app ecosystem, with end-to-end software solutions that aim to optimize monetization through various products and solutions.
AppLovin has been gaining steam recently through new advancements in its machine-learning and AI-focused offerings. APP's portfolio of products and solutions are vital in the highly competitive world of digital apps, where countless companies are fighting for awareness, screentime, and profitable success in our smartphone-obsessed world.


Image Source: Zacks Investment Research
AppLovin crushed our EPS estimate by 175% last quarter and boosted its guidance as it boosts its margins and attracts more business through its predictive, AI-driven tech updates. AppLovin's improved offerings are leading to better ROIs for its customers, which should lead to more growth down the road and stability.
APP's consensus earnings estimates have soared by roughly 120% for both FY23 and FY24 since its second quarter report to help it land a Zacks Rank #1 (Strong Buy) right now. Zacks estimates call for AppLovin's adjusted 2023 earnings to soar 333% to $0.78 and share and then climb another 71% higher next year. And its most recent/most accurate EPS estimates are coming in well above its much-improved consensus. Meanwhile, its revenue is projected to climb by nearly 10% this year and another 13% next year to hit $3.48 billion.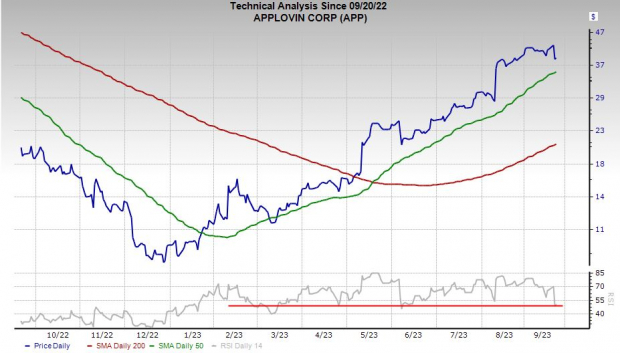 Image Source: Zacks Investment Research
APP shares have soared 280% YTD to crush Nvidia ((NVDA – Free Report) ). Yet it still trades roughly 65% below its November 2021 peaks—went public in April 2021. AppLovin currently trades above its 50-day and 200-day moving averages, and it experienced the bullish golden cross earlier this year—where the shorter-dated trendline climbs back above the long-term average.
A recent slide has it back below neutral RSI levels. And its PEG ratio of 1.7 marks a discount to the Zacks Tech sector's 2.0. Plus, 11 of the 16 brokerage recommendations Zacks has are "Strong Buys."
Vertiv Holdings Co ((VRT – Free Report) )
Vertiv provides critical digital infrastructure and continuity solutions from the cloud to the edge of the network. Vertiv helps clients deal with vital issues facing data centers, communication networks, commercial and industrial facilities, and beyond through its portfolio of power, cooling, and IT infrastructure solutions and services.
Vertiv operates in the background of our tech-driven world, helping make sure that its client's various digital infrastructure run smoothly and continuously. Simply put, Vertiv operates in an uncool area of tech that is of vital importance, which turns out to be an impressive combination.


Image Source: Zacks Investment Research
Vertiv posted a beat and raise period last quarter. Vertiv's FY23 consensus EPS estimate has surged 27%, with FY24's figure up 32% since then to help it land a Zacks Rank #1 (Strong Buy).
Zacks estimates call for VRT's revenue to climb 20% this year and 8% higher in 2024 to hit $7.41 billion to help its adjusted earnings soar by 200% and 23%, respectively to reach $1.96 a share next year.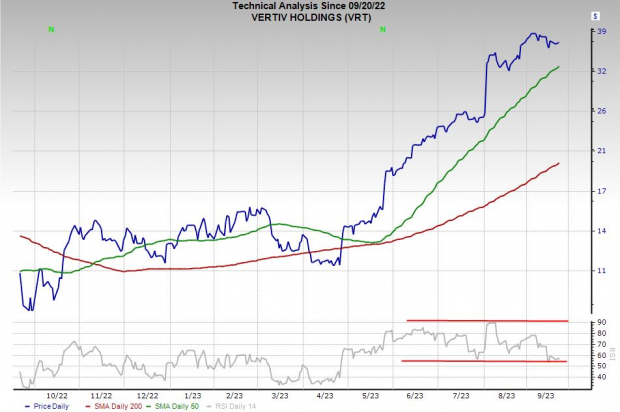 Image Source: Zacks Investment Research
Vertiv shares have jumped a whopping 178% in 2023 to close in on Nvidia's 195%. Some might feel that VRT is a bit overheated. But it has already fallen from above overbought RSI levels to closer to neutral, while still trading near its early September highs. And it remains solidly above its 50-day moving average.
Despite its run, Vertiv trades at a 13% discount to the Zacks Tech sector at 20.5X forward 12-month earnings, which also marks 18% value vs. its own year-long highs. Wall Street is also very high on the stock, with eight of the nine brokerage recommendations Zacks has at "Strong Buys."
ePlus Inc. ((PLUS – Free Report) )
ePlus is a top provider of technology solutions that span across data centers, the cloud, networking, security, collaboration, and artificial intelligence. The company's offerings include data center-as-a-service, DevOps, lifecycle and adoption services, automated machine learning, and much, much more. ePlus also has a financing unit, which helps it attract a wider array of customers.
ePlus grew its revenue by 16% in its fiscal 2022 and 14% in fiscal 2023. The firm in early August posted blowout Q1 fiscal 2024 results, topping our earnings and revenue estimates and providing upbeat guidance. The company's consensus earnings estimate has climbed by 15% for the current year and 16% for next year since its release to help it grab a Zacks Rank #1 (Strong Buy).

Image Source: Zacks Investment Research
Zacks estimates call for ePlus to post 13% revenue growth in its FY24 and another 6% in FY25 to pull in $2.42 billion. The company's adjusted earnings are projected to climb by 6% and 8%, respectively over the next two years. The nearby chart showcases that ePlus' current outlook would mark the extension of its steady expansion over the last 25 years.
PLUS shares have soared 364% over the last decade to easily outpace the Zacks Tech sector's 240% climb. This impressive stretch includes a 47% surge during the past 12 months and a 42% YTD run. The stock recently found support at its 50-day moving average and it sits at neutral RSI levels.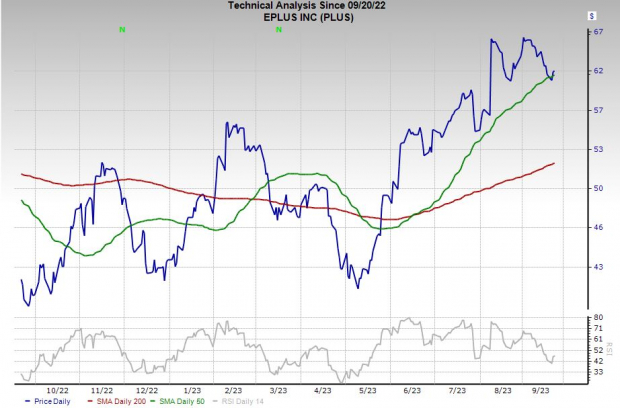 Image Source: Zacks Investment Research
On the valuation front, ePlus trades at a 40% discount to its decade-long highs at 12.8X forward 12-month earnings and 45% below the Zacks Tech sector. And ePlus is part of the Zacks Business – Software Services industry that currently ranks in the top 25% of over 250 Zacks industries.